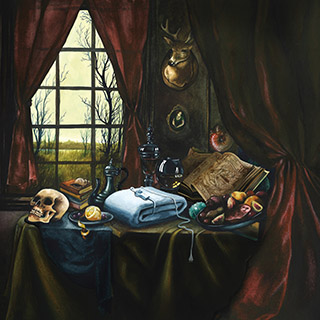 "Electric Blanket /
House of Eternal Return"
Amanda Palmer & Jason Webley
2018 - 2 song 10" 45 rpm single
Limited edition of 1,111 on multi-colored vinyl
New recordings of two songs by Jason and Amanda that never had a proper home. "Electric Blanket" was written back in 2008 about a passive aggressive gift given to Amanda during a war over just how hot it should be on a tour bus. "House of Eternal Return" was written in March 2016 in Santa Fe for opening night of the Meow Wolf art installation of the same name.

Pressed to 10" vinyl for maximum fidelity and to sit nicely on the shelf next to JIB and Evelyn Evelyn, these limited edition records include a lyric insert and feature beautiful original front and back cover art by Bayla Arietta.
Side A:
Electric Blanket
Side B:
House of Eternal Return
Amanda Palmer: Vocals, Wurlitzer
Jason Webley: Vocals, guitar, bells, accordion, Rhodes, wine glasses, typewriter, etc.
Ethan Schmidt: Upright bass
Back-up vocals: Chris Poage, Walt McClements, Kate Copeland, Jeff Harms, Casey Long, Katelyn Shook and Laurie Shook
Additional voices and whispers by the Electric-Blanket-Video-Shoot-Wrap-Party Choir

(C)2018 Eight Foot Music (ASCAP) and Music That Tears Itself Apart (SESAC)
"Electric Blanket" engineered by Mike Napolitano in
New Orleans, LA. "House of Eternal Return" recorded by Chris Bittner at Applehead Studio in Woodstock, NY. Mixing and additional recording by Jason Webley Mastered by Jherek Bischoff
Cover art by Bayla Arietta