Below is the page for the original "Margaret" concert that happened on April 11, 2014.

Since then, a lot has happened. We decided to make an album of the material from that concert. The Kickstarter campaign for this went crazy, so we are also doing a little tour, beginning on December 12th, Margaret Rucker's birthday:

Dec 12 - Seattle - Moore Theater
Dec 18 - Portland - Wonder Ballroom
Dec 19 - Eugene - Wow Hall
Dec 20 - San Francisco - Castro Theater
Dec 21 - Los Angeles - Bootleg Theater

The "Margaret" album is a full-length CD housed in a 90-page hardcover book. It features music by myself, Led to Sea, Jherek Bischoff, Eliza Rickman, Shenandoah Davis, Lonesome Leash, Zac Pennington and Mts & Tunnels, as well as writings by Chicken John Rinaldi and myself. You can pre-order it for $25 (plus shipping):
We will ship on or before December 12. The first few hundred orders will come with a bonus CD of outtakes and extras (including contributions by Amanda Palmer and Neil Gaiman). Also, there is actually quite a story behind this record...



A few words about this show, "Margaret":
I'm putting on a show. I guess that's not such a big deal, but this is the first show I've organized since my 11-11-11 show almost two and a half years ago. Still, maybe that's not much to get excited about.

But I'm excited.
The show will be in Everett on April 11th.
But before I tell you about it, I should tell you a story:
Last April, a friend was visiting me in Everett. Ok... I know I always say that I live in Seattle, but I actually live in Everett. Weird, right? Why would I live there? I don't know - my family is close, I have good friends and god-kids there, and I think my house is pretty cool... But anyway, my friend is visiting me in Everett, we are driving around, and she asks me, "what's the deal with the Ruckers?"
If you know Everett, the name is probably familiar - there's a bunch of buildings, a major street, and even a whole neighborhood bearing the Rucker name. Being the great historian that I am, I told my friend, "I have no idea." I thought for a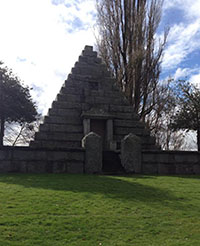 moment, then added, "but let me show you something really cool."
I took her to the old cemetery, where atop a big hill stands a huge 30-foot tall granite pyramid with the name 'Rucker' embossed across the stone. It is monolithic, ominous, and I've never seen anything quite like it (actually, it bears a strong resemblence to the Mayan ruins in Guatemala.) Teenagers often climb on it and drink beer. We didn't have any beer, but we climbed on top anyways. It is kind of terrifying up there.
A couple days later I was in San Francisco, staying with my friend Chicken John. Chicken is an interesting guy. He used to run the bar where I used to play down there. He also used to run a circus, helped start a festival called Burning Man, played guitar in GG Allin's band, and ran an impressive and hilarious campaign for Mayor of San Francisco. So, I'm walking down the street with him and his wife, telling him what I've been up to, and I mention something about Everett.
He stops walking. His face takes on an odd aspect.
"Everett? You live in Everett?"
"Yeah."
"When we get home, there's something I need to show you."
Years before Chicken was walking in San Francisco late at night and found a huge dumpster in front of a house - like someone had died and the the entirety of their life was being discarded. He looked inside to see if there was anything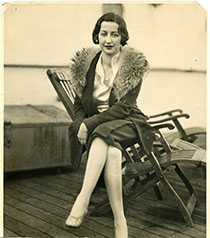 worth selling. But he was drawn to an old scrapbook detailing the life of a woman born in 1907. It began with her birth certificate and ended with her obituary. He was taken in by the old photographs, newspaper clippings and pieces of the woman's poetry, published in the 1920's. I won't tell the whole story here, but her life was tragic and her writing was dark and beautiful - sometimes heartbreaking.
He ended up holding onto that scrapbook for years. Whenever he had visitors, he'd bring out the book and say, "there's somebody I'd like you to meet."
Eventually, he decided he could't keep the thing forever and held a show at his bar - a memorial for this unknown woman. He put together a slideshow of images from the book. After showing the slideshow, a band played and he put the scrapbook on a table. Audience members were invited to each take away a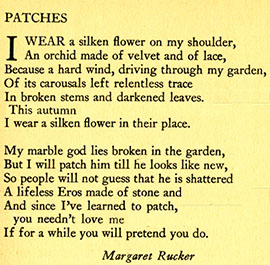 photograph, a clipping, or a poem, until eventually someone took away the empty book itself.
All that remains now is the slideshow on his computer, which is what he showed me that night.

The woman was born in Everett, and her name was Margaret Rucker.

was the daughter of Bethel Rucker, one of the brothers who essentially founded the city. And her obituary, the last image of the slideshow, showed that she was buried in the Rucker mausoleum in Everett, the crazy pyramid that I had just climbed with my friend two days before.
THE SHOW:
Since then, I've been telling this story and showing those images to just about everybody I see. Everyone is amazed by the dark story of her life and the strange serendipity that brought it to me. The idea has grown to make a night of music inspired by her life and her writings. I've invited a number composer/songwriters to compose new pieces based on this material.
The response has been wonderful and I couldn't be happier about the line up. The night includes familiar collaborators (Jherek Bischoff and Led To Sea), some very talented Everett natives ( Zac Pennington and Mts. & Tunnels), and some of my favorite songwriters from around the country (Eliza Rickman, Lonesome Leash and Shenandoah Davis.) "Chicken" John will also be coming up to present the slide show. The night takes place at the beautiful Historic Everett Theater, which was built in 1900 making it the oldest operating theater in the state. The concert is a co-production with The Everett Music Initiative with support from Experience Everett and KSER Radio.
So, this is the show I mentioned way back at the beginning of this post.
I hope you can come.
There's someone I'd like you to meet.

"MARGARET"
Music inspired by the life
and writings of Margaret Rucker

April 11, 2014- Everett, WA
Historic Everett Theater
2911 Colby Ave

Featuring new music by: Jason Webley, Shenandoah Davis, Jherek Bischoff, Led To Sea, Eliza Rickman, Zac Pennington, Lonesome Leash, "Chicken" John Rinaldi and Mts. & Tunnels.