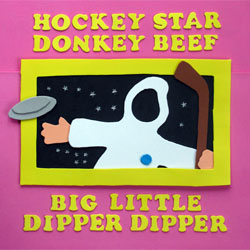 Side A:
Hockey Star
Side B:
Donkey Beef
(C)2061 by Big Little Dipper Dipper

Big Little Dipper Dipper contains three or more of the following:
Oliver Orion
Caitlin Rippey
Jason Webley.

Hockey Star
2010 - 13 track CD
with 2-song colored vinyl 7"
Limited edition of 1,111

Dance club hits, ballads and party music from the 1990's of the future. This EP is Big Little Dipper Dipper's big comeback after their non-existent debut Chinese Donut Commercial.

If the project seems like an in-joke, please rest assured that it is not - we don't understand it either. These songs are just what happens when I get together with my friends Oliver Orion (songwriter, boat builder, eater of crazy things) and Caitlin Rippey (artist, scientist, mold grower.) This is also probably the most fun I've ever had making a record ever.

This is the newest in a series of eleven collaborative projects between myself and my songwriter friends from around the world. Only 1,111 numbered copies of this disc will ever be made. They generally go out of print rather quickly, so order soon or feel pangs of regret for the rest of your life.
Bonus CD:
1. Hockey Star
2. Donkey Beef
3. Hula Brandon
4. Shoes
5. El Salvador Dal(a)i Lama
6. 5.5
7. Sad Sexy Mannequins
8. Annacrotis
9. Remember Russell Drop
10. Song of the Warrior
11. Pümpt
12. Stop That Sexy Yellin'
13. Block Party