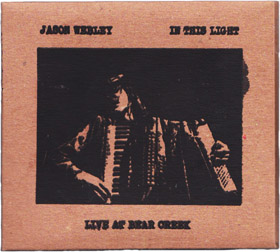 In This Light - Live at Bear Creek
2011 - 13 song CD
For years people have been asking me to record a live album. I never really liked the idea, but when Jherek Bischoff suggested inviting an audience into Bear Creek Studios just outside of Seattle, the venue seemed right and the idea stuck. I asked a bunch of my favorite musicians to join us for the session. The result is this collection of a few new songs, a couple covers, and a bunch of older songs that either have evolved a lot or lacked energy in the original recordings.
It took ages to finish this disc, mostly because all I could hear were the mistakes. But here it finally is. It isn't perfect, but there are a lot of lovely moments and I think it does capture some of the energy of my live shows. I hope you enjoy it.

1. From the Morning
2. Dance While the Sky Crashes Down
3. There's Not a Step We Can Take That Does Not Bring Us Closer
4. In the Aeroplane Over the Sea
5. Goodbye Forever Once Again
6. Icarus
7. Constellation Prize
8. Against the Night
9. In This Light
10. Saviour
11. Slip Away
12. Drinking Song
13. Last Song
Jherek Bischoff: bass, vocals
Alex Guy: viola, vocals
Timb Harris: violin, trumpet
Fred Hawkinson: trombone
Paul Kikuchi: percussion, vibes
Kris Rosentrater: drums

Mixed and mastered by Jherek Bischoff
Engineered by Ryan Hadlock
Assisted by Matthew Doctor and Trevor Spencer
Photo by Evy Ottermans.
Produced and designed by Jason Webley

All songs (C)1999, 2002, 2005, 2008 and 2011 by Jason Webley, except "From the Morning" (C)1972 by Nick Drake and "In The Aeroplane Over the Sea" (C)1996 by Jeff Mangum.