.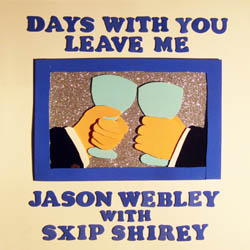 Sold Out. Sorry!
Watch the video.

(Eventually I will be making digital versions of these collaborations available, and releasing an album of the best songs.)
Days With You
2009 - 2-song colored vinyl 7"
with 13-song CD
Limited edition of 1,111

For years I had been hearing about Sxip Shirey - circus composer, gypsy guitar wizard, powerhouse solo performer, and collector of curious sound-making devices. When we finally met a couple years ago, it only seemed natural to suggest we try to write some songs together. But the music we came up with surprised me. There was a bit of the sonic mayhem, I was expecting, but mostly Sxip and I sculpted songs that I feel are genuinely beautiful and unlike anything I might have written on my own.
Side A:
Days With You
Side B:
Leave Me
Bonus CD:
1. Days With You
2. Leave Me
3. March of the Hoohahs
4. Joe's Phonograph
5. Cardboard Suitcase
6. Drift
7. Crock
8. Elephant Piano
9. Resophonic Dream
10. Winter Comes
11. Regurgitated Lullaby
12. Almost Time To Go
13. Reprise
All songs (C)2009 by Jason Webley and Sxip Shirey